In honour of World Day Against Child Labour 2022, we are sharing, with great pleasure, an update on our Child Protection Program in Sierra Leone! Tradin Organic strives to prevent child labour in all our sourcing regions; it is a mandatory clause of our supplier code of conduct (signed by 100% of our suppliers). It is in our history to work with certifications such as Fairtrade, but with this particular program, we joined forces with partners to take our efforts one step further.

The program launched in 2020, in collaboration with Child Fund Sierra Leone, IQSMA Solutions, local authorities, children welfare committees and support from RVO (Dutch government). The project focuses on identifying why child labour risks arise, what structural changes are needed to prevent it, and then implementing these in and with the farmer communities.

IQSMA Consultation Meetings with VSLA, CBCPS and Government Representatives (Ministry, Departments and Agencies)
Firstly, it is crucial to mention that taking children to the fields is a historic and essential way of passing down farming knowledge and skills. It only becomes problematic when it harms the children in any way, physically or by keeping them from going to school. In our sourcing areas in Sierra Leone, our research found that nearly all children of school age (boys and girls) remain enrolled in school. The main risk lies with periodically missing out on school due to parents not being able to afford additional fieldwork cover during busy periods. Therefore, the focus becomes to help farmers manage their income and prevent indebtedness – as these indirectly form the main drivers of child labour.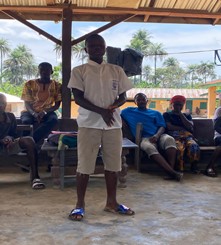 A Member of Children's Club Presenting
Our project includes awareness campaigns, monthly radio discussions and collaboration with local government, but the pivotal activity is setting up so-called "Village Saving and Loan Associations" (VSLAs). A VSLA is a self-managed, micro-financing farmer group. Each VSLA has 30 members who pool their savings throughout the year and loan to each other against no or low interest. These actions allow them to buy equipment, hire workers when needed and pay for school fees at the start of the year - without needing to take out loans with unfavourable terms that get them into debt.

There are now 57 VSLAs established in just over 50 villages connected to our Farmer Field Schools. The VSLAs receive training and regularly visited by Tradin Sierra Leone, Child Fund and IQSMA Solutions team members. Looking back at the first full year, the VSLAs reported:
• More savings and loans than expected.
• All loans having been paid back and used exactly for the intended things: hiring day workers, buying equipment to make farm management more efficient and paying school fees.
• The first indications from school are also that attendance was up last year. Our goal is to include school attendance in our continuous monitoring system, to finetune interventions (e.g., if attendance still shows dips in specific periods) and ensure the project still is effective.
---
"With the readily available loan source, we can now hire and pay for labour, unlike before this project intervention when our children use to work in our farms. Our children can now attend school uninterrupted." – Testimony from VSLA member-farmer"
---
To see our project thriving and making improvements happen is really encouraging, including the interest from neighbouring village to also get support in setting up a VSLA. To us, it shows this is a welcomed and effective tool in improving the livelihoods of the smallholder farmers and their families.

We are looking forward to the see next year's updates on this project. Are you interested in collaborating or would like to know more? Fill in the form to contact us!