Tradin Organic is the first organic sourcing and trading company worldwide to be certified with the new We Care standard! Initiated by FiBL Germany, the We Care standard is a new and comprehensive ecological and social standard for the food industry that focuses on responsible supply chain management.
Tradin Organic is among a group of front runners in the food industry to first receive this standard. Other pioneers are Alnatura (that also produced an explanatory video) and Lebensbaum.
With the We Care standard in place, Tradin Organic is well-prepared for the due diligence requirements of the upcoming Supply Chain Law initiated by the European Commission.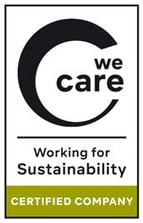 Current standards only focus on individual product chains or individual sustainability aspects of production or processing.
We Care is a corporate sustainability standard that comprehensively maps social and environmental responsibility along all supply chains.

The We Care standard captures a company's social and environmental sustainability efforts in four categories:
Corporate Governance:

Integration of sustainability principles into management processes and corporate communication;

Responsible Supply Chain Management:

Fundamental sustainability requirements in the supply chain management, governed by social certifications;

Environmental Management:

Towards monitoring of greenhouse gas emissions,

impact on biodiversity and improving waste and water management in supply chains;

Employee Responsibility:

Good working conditions and benefits for employees.
"We are proud to be a certified We Care company as the standard recognizes the continuous improvement of our sustainability performance at every step of the supply chain. The Tradin Organic team is committed to not only tell stories, but to prove them. The We Care standard validates our commitment towards responsible sourcing and our sustainability approach 'beyond organic'."
– Elise te Kaat, Sustainability Manager Tradin Organic.
Contact Info@tradinorganic.com for more information